Welcome to Amerson Roofing: a Daphne Roofing Contractor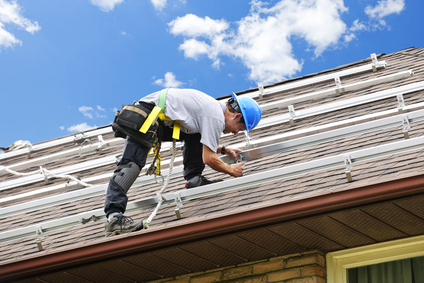 At Amerson Roofing, our Daphne roofing contractors provide commercial and business roofing services with the experience and equipment to handle any kind of roofing project, from shingles to shakes to metal to asphalt.
Our Daphne roofing roofers have many qualifications, but our most important quality is our reputation as hard-working, knowledgeable, and fair professionals who just happen to be experts in roofing. You will always receive, quality, on time work and upfront pricing.
Amerson Roofing - Daphne Roofing Contractor
The experts at Amerson Roofing has been in business for over 53 years providing superior roofing and siding repairs and installation. Our professional Daphne roofing contractors have your complete satisfaction in mind. From new roof installation to roof repairs, our roofing contractors have real world experience servicing countless customers and providing quality work.
As Daphne roofing contractor, we can help you to quickly complete the necessary repairs and even work with your insurance company to create as stress-free a process as possible. Experience the Amerson Roofing difference - request an estimate today!
Daphne Roofing Inspections
You take your vehicle to get the oil changed; why not perform regular routine maintenance on your roof? A hot summer day ending with a cold shower can be detrimental to a roofing system. Allow our professionals examine your roof to eliminate many problems before they damage your valuable property! 
Our Daphne roofers have over 50 years of roofing experience. Our professional Daphne roofing contractors are highly trained to find all of the issues associated with repairing your roof. This prevents covering up any problems, or leading to any unexpected charges.
Daphne Roofing Contractors
Daphne Roof Repairs
Daphne Roof Maintenance
Daphne Roof Replacement

Business Roofing
GAF Roofing Products
Shake Roofing
Asphalt Roofing

Roof Inspections
Metal Roofing
Tile Roofing
Roofing Company
Roof Repair for Your Daphne Business or Office
Sometimes shingles need to be replaced due to roof rot, or due to the fact that they have broken and become damaged. If they need to be replaced you can take the broken shingle down to the local Daphne business repair store and check to see if they have matching shingles. Order a few extra shingles because sometimes a small roof repair will take more than you realize.
Once you have the new roofing materials you can go ahead and also purchase putty or nails to help keep put the roof down. Replace the roof tile by removing the old roof tiles and putting the new ones in the same spot. This will let you make sure that they fit. Then attach the shingles to the roof by either nailing them down or using putty and letting them dry.
Doing your own roofing job is not difficult, but it can be time consuming making sure that you get it done right. Also many business owners get hurt trying to do the job themselves. This is because they have the lack of training, and also they do not have they proper tools and equipment. If you decided to do the job yourself it is wise to hire a Daphne roofing contractor to inspect your work.
We Provide Roofing Services in Daphne, AL
---
If you are looking for a Daphne roofing contractor then please call 800-716-9511 or complete our online request form.