Making Smart Decisions About Roof Repairs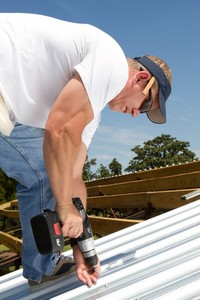 When it comes to roof repairs, the average homeowner has a tendency to procrastinate. The problem is that continuing to ignore minor repairs is the best way to end up needing major repairs. Even worse, you could end up needing a roof replacement.
The first thing you should keep in mind is just how important your roof is. Aside from maybe the foundation, your roof is the most important aspect of your home. Your roof keeps you, your family and everything inside the home protected from the elements.
What You Should Know About Your Roof
Annual inspections are the best approach to getting the maximum lifespan out of your roof. However, it's also important to get a roof inspection after any suspected storm damage. A roof inspection should be performed by a trained expert in the field of roofing.
After any severe storms, you should also have your roof checked. An important reason for this is that you may think there is no damage only to find out later there was. Your insurance will only cover storm-related damage to your roof for a certain amount of time following the event.
There are many things that can damage your roof. Aside from just hail damage, heavy rain, strong wind, and snow or ice can wreak havoc on this part of your home. Other common issues can occur from bats, squirrels, and even tree branches.
Even a little bit of mold can quickly spread. Leaving any minor roofing issue in disrepair can lead to serious problems. Any expert in the field can tell at least one story of someone who thought their roof needed something minor only to find out it was on the verge of collapse. Plus, without repairs, your attic and other parts of the home can be compromised.
Every Roof Type Is Different
While one Pensacola roofer will be able to work on any type of roof, there are plenty of others who don't have the experience to repair them all. The most common roof type has standard asphalt shingles. Flat roofing is significantly different than pitched roofs. Even within the metal roofing systems, there are differences and variations that a roofer must have experience with. And then there are wood shake shingles and tile roofs that need to be repaired differently.
Your best bet is to choose a roofer with well-rounded experience repairing all roof types. This way, you know that they have the most training and experience in the industry. You should also know that a roof inspection should be done by a qualified inspector. Not every roofer has this certification.
Quality Roofs Actually Do Save You Money
A good metal roof will need fewer repairs, less maintenance, and fewer replacements throughout the lifetime of your home. Even quality asphalt shingles will perform better than standard shingles. A roof replacement is a hefty expense so the longer the structure lasts, the better. Protect your investment from the start by making sure you make wise decisions about the products and the installer. Quality always matters.
Choosing Your Pensacola Roofing Contractor Wisely
So when it comes to caring for the most important part of your home you should never trust just anyone. Here at Amerson Roofing, Inc., we hear many tales of terror after some have made poor choices about getting roof repairs. All around Pensacola and Atmore, homeowners sometimes cut costs by taking the lowest estimate from someone who is not reputable and experienced. The lowest estimate is not always the wisest choice.
Once the victim of such a service realizes their hired "pro" didn't do the job they should have, this contractor is long gone and the homeowner winds up with the expense of water damage repair and mold remediation. That's when Amerson Roofing ends up coming in to repair the original problem plus whatever damages the shoddy work caused. This ends up costing double what it would have if the homeowner had just hired a reputable roofer in the first place.

More Tips on Roof Repairs (roof maintenance, roof repairs, roof replacement)
If you are looking for a Gulf Shores or Pensacola roofing expert then please call 251-368-5295 or complete our online request form.