How To Choose Roof Tiles For An Upgrade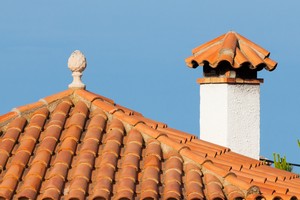 If it's time to replace your old roof shingles and you want something more durable, you are probably asking which roof tiles are the best.
Among the different roof tiles available, clay, slate, and composite would be a considerable upgrade. Here is a brief comparison from our pros at Amerson Roofing in Pensacola to help you choose the best roof tiles for your home.
Clay Roof Tiles
The traditional clay Spanish tiles are very popular for homeowner's who are looking to upgrade to a strong roofing tile. But the Spanish barrel tile style isn't the only option!
Clay roof tile styles:
Wood shake style
Scalloped style
Barrel Tile/Spanish style
Interlocking shingle style
French interlocking tiles
S Tile/Pantiles
Pros of clay tile:
Attractive
Resists rot, water, insects, fire
Long lifespan
Long-term savings
Insulating
Cons:
Cracks or Chips by golf ball-sized hail or larger
Easy to break if walked on
More expensive up front
More expensive to repair
Heavy
Slate Roof Tiles
Slate roof tiles are a natural stone, so they are very earth-friendly. Since slate is a natural stone, the colors range from light to dark. This variation and the different styles available give you more options for a completely unique looking roof.
Styles:
Standard American
Staggered Butt
Random Width
Ragged Butt
Textured style
Graduated style
Mixed color patterns
Scalloped
Pros of slate tile:
Attractive
Resists rot, water, insects, fire
Can last more than a century
Cons:
More expensive
More fragile
Poor insulation
Easy to break if walked on
Concrete Roof Tiles
Concrete tiles are easier to find than clay, are less expensive, and very durable, so many choose them for roofing upgrades.
Styles:
Attractive traditional clay tile style
Wood shake style
Slate style
Stone style
Pros of concrete tile:
30% to 50% less expansive than clay
Long-lasting
Resists rot, water, insects, fire
Insulating
Cons:
May need repainting
Same labor charges as clay
Heavy
Don't last as long as clay
Composite Roof Tiles
Composite roof tiles are one of the top choices for roofing upgrades because of their affordability. They are easier to maintain and are often just as beautiful as the real material.
Styles:
There are many different styles, types, and brands of composite roof tiles. They mimic clay and slate types but are lighter
Pros of composite roof tile:
Attractive
Less maintenance required
Less expensive
Can be walked on
Made from recycled material, doesn't deplete natural resources
Has highest ratings for wind, rain, and fire damage
Excellent warranties
Cons:
Haven't been on the market long enough to determine longevity
Some composite tiles fall short of a top Class A fire rating
Some don't really look like the real thing
More Tips on Roof Replacement (clay roof tiles, roof tiles, slate roof tiles)
If you are looking for a Gulf Shores or Pensacola roofing expert then please call 251-368-5295 or complete our online request form.