Commercial Roofing Replacement Options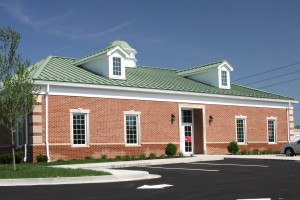 As a commercial business owner, you have options to choose from if replacing your old roof. Today's materials can way outperform your old roofing system.
At Amerson Roofing, Inc., our Pensacola roofing specialists have a lot of experience working on commercial buildings.
We would like to tell you about some of the choices you can make if it's time for commercial roof replacement.
We choose to work with some of the best roofing product manufacturers you can find such as:
Garland
GAF
Tamko
Atlas
Johns-Manville
Sustainable Green Roofing Solutions
More and more consumers are becoming more conscious of recyclable materials. More roofs are being constructed with green roofing materials, so manufacturers are answering the demand.
Consumers want low or no VOC content. VOCs are volatile organic compounds that are harmful to humans and the environment. Just as lead paint and asbestos are being removed from many structures today, it is predicted that building materials which give off VOCs will one day be a thing of the past.
A sustainable green roof offers many benefits to a commercial business owner.
Highly Reflective Surfacing Reflects Heat
Improved Building Energy Efficiency
Lowered VOC Content
Manufactured For All Types Of Commercial Roofs
Post-consumer Recyclable
Friendly To Humans
Friendly To The Environment
Insulating Roofing Membranes
One great option you have as a commercial business owner is to install an insulating roof membrane. This option improves the energy efficiency of any building.

Modified Bitumen Asphaltic Roof System
A roofing membrane needs to be both strong and flexible in order to last. The modified bitumen membrane is an asphalt membrane that has been modified with SBS or APP bitumen. It is then reinforced with fiberglass and polyester mats. This process makes it one of the strongest and most flexible waterproofing membranes you can get.

Single-Ply TPO Roofing
You can get single ply TPO roofing for your commercial business that outperforms many other roofing systems. The GAF EverGuard Extreme® TPO offers a warranty up to 35 years. It outperforms in heat-aging tests, which is important here in the Gulf Shores and Pensacola areas.

Solar Roofing Systems
If you really are concerned about the energy efficiency of your commercial building, think about a solar roofing system. You can turn your rooftop into an energy producing machine. This system offers integrated solar solutions that meet varying and specific roof needs.
More Tips on Roof Replacement (commercial roof replacement, commercial roofing replacement, roof replacement)
If you are looking for a Gulf Shores or Pensacola roofing expert then please call 251-368-5295 or complete our online request form.